Multi-billion-dollar Fukushima "reconstruction" based on a sham to profit big contractors colluded with Abe LDP government twice. Japanese government's "Air dose fraud"
癒着ゼネコンが二度儲かる。まかり通る線量詐欺
小泉環境大臣が、除染された土壌を鉢植えに入れ、観葉植物を植える取組を発表されました。被災地から選出いただいている大臣としても、大変嬉しいです。法務省でも同じ鉢植えを設置します。なお、この鉢植えの設置前と設置後で、室内の放射線量の変化はありませんでした。https://t.co/zq65O8F3PI

— 森まさこ MORI Masako (@morimasakosangi) March 6, 2020
March 6,2020 : Minister of Justice Yuko Mori of Fukushima constituency tweets her gratitude for Minister of Environment, Shinjiro Koizumi, for his placing 8 potted leafy plants in his and stuff's offices. She says same plants to be placed in Ministry of Justice.
Mori reports no radiation air dose(γ) change in his office before and after placing the plants.

Foliage plants in the Environment Ministry sound soothing, unless they are radioactive...


「鉢植えは計8個で、県内の中間貯蔵施設に搬入された除染土のうち、放射能濃度が中央値より高い1キロ当たり約5100ベクレルものを、それぞれ2~5キロ使用。プランター用の土をかぶせ、2個を大臣室に、他は幹部の部屋に」

小泉環境相 https://t.co/OeWqfvXxFB

— まさのあつこ (@masanoatsuko) March 6, 2020


Each plant Koizumi places contains 2 to 5 kg of the removed radioactive soil in Fukushima with cesium(others ignored) density of around 5,100 Bq/kg.

It's obvious 5,100 Bq/kg soil is covered with clean soil to block γ radiation as MOE plans to landfill 8,000 Bq/kg soil under motorway's construction or whatever public works. However it doesn't at all guarantee the toxic soil wouldn't leak into groundwater or spread into air as radioactive dust over time to cause internal exposure for nearby residents.

Mori and Koizumi's common remark "No change of air dose" is the typical

"air dose fraud"

to ignore the risk of more hazardous internal exposure of radioactive substances,which Japanese government has been engaging in since Fukushima Dai-ichi disaster.

Koizumi places 2 planters in his office to help government dispel the public fears for radiation ahead of the Ministry's "REUSE" project of Fukushima toxic soil once removed for "reconstruction".
MOE claims soil with up to cesium density of 8,000 Bq/kg is "safe" for reusing in public works and horticultural farmland NATIONWIDE.



2019年2月26日福島汚染土、県内で再利用計画 「99%可能」国が試算


https://www.asahi.com/articles/ASM2T4T7TM2TUGTB00B.html
February, 2019 : Japanese Abe government estimates 99 % of more than 14 million m3 "removed" radioactive soil would be "REUSABLE".The Reuse project plans to start in Fukushima.


【狂気】福島の汚染土9割が再利用可能、県外の道路工事など公共事業で使用、環境省https://t.co/JaDFKUgeTT

丸川大臣は全国に放射能をバラ撒く決定をした模様
放射能を熱で分解ってどーすんの?あり得ん!!#被爆死 pic.twitter.com/i8U5lE3Uea

— 非自公民の脱原発に一票(しろ) (@xciroxjp) March 31, 2016


Japan government vowed 1.4 to 2.2 million tons of toxic soil in interim storage in Fukushima Prefecture would be relocated to outside of the Prefecture by 2045 for final disposal.
In 2016, however, as finding final disposal site(s) is a killer assignment,

the incompetent yet irresponsible government looks easy way out, as always,which is


"Let's make it safe by changing the law to relax the legal limit by 80 times!No immediate danger,anyway. No trouble with looking for final disposal sites,and everybody is happy,especially our contractors who remove and spread the toxic soil to double their income. "?

またしても無能無責任政府の究極の「無能無責任」による無策政策が炸裂です!
『基準値を上げて安全にしてしまえば、最終処分場探しに苦労せず万事解決。どうせ「ただちに影響はない」から、丸くおさまる。とりわけ癒着ゼネコンは、汚染土を取り除いて、今度はバラまいて二度美味しい』ですか?😠


今ココです・・・



除染土の再利用地で、野菜の試験栽培開始 環境省


https://www.asahi.com/articles/ASN517VFVN4XULBJ00X.html
『「昨年度は、造成した土地で花やバイオマス発電の固形燃料などになる作物を栽培。その結果「十分安全側の結果が得られた」として、今年4月に除染土を全国で再利用できるよう省令改正をする予定だった。しかし、地元から「食用作物も育てたい」との声があり、改正を先送りすることを決めた。・・・除染土の再利用については「汚染の拡大になる」といった声もある。省令改正案のパブリックコメントには3千通近い意見が寄せられ、多くは反対だった』

MOE's madness is escalating...
May 12, 2020 : Ministry of Environment to conduct a test growing of vegetables with radioactive soil removed in Iitate Village, Fukushima.
MOE seeking revision of the ministry ordinance to greenlight "reuse" project of the soil with max.cesium density of 8,000 Bq/kg, postpones the revision waiting for possible food plants growing with the soil.
Many of nealy 3,000 public opinions on the issue are opposing to the reuse plan.

It's absolutely natural that there are voice of strong protest against the insane disposal and reuse of those soil with max 80 times of legal radioactive waste's standard for cesium, "100 Bq/kg".

The followings are just a few of those protests and are quite well rigid justifications and arguments.
I'm sorry for my lack of time to translate them into English for now. Try Google translator or else,will you please?

「8,000Bq/kg以下の除染土を公共事業で再利用」方針の矛盾と危険性(解説と資料を掲載しました)
https://foejapan.wordpress.com/2016/05/02/8000bq_problem-3/
1)吸い込みによる内部被ばくは?…放射性物質が付着したほこりや浮遊粒子状物質が空気中に舞い上がり、相当程度、「吸い込み」により内部被ばくが懸念される。
2)累積被ばくは?
ただでさえ被ばくが懸念されるような地域の場合、さらに追い討ちをかけることに?
3)他の核種は?
放射性セシウムだけの評価でよいのか?」

一億総被ばくの国家プロジェクト… 8,000ベクレル/kg以下の除染土を 全国の公共事業に!?
https://foejapan.wordpress.com/2016/04/15/8000bq_problem/
「遮蔽および飛散・流出の防止」と書いたところで、そんなことは絵に描いた餅です。管理型の処分場でさえ、周辺や地下水の汚染は避けられないのに、ましてや公共事業の構造材では、なおさらです。降雨、災害、浸食などによる環境中への大量放出も懸念されます。工事中においては、工事従事者も通行人も被ばくします。

山本太郎議員の国会質疑(2016.4.13復興特別委員会)
https://www.taro-yamamoto.jp/national-diet/5801
「1キロ当たり8000ベクレル以下を再生利用できる基準に変えてしまう、しかも省令でという驚きの話」
「原子炉等規制法では1キロ当たり100ベクレル以下、そして今回の再生利用の基準は1キロ当たり8000ベクレル以下。再生利用、リサイクルの基準、80倍も緩くなっているじゃないですか。原発敷地内の再生利用の基準よりも原発の敷地外に放出された放射性物質により汚染された廃棄物の再生利用の基準が80倍も緩くなるなんて、これ悪い冗談ですよね」


Which country in the world allows burning radioactive waste with max. 8,000 Bq/kg of cesium as

"regular household garbage" and "reuse"

of them for public works and horticultural farmlands nationwide?
Which county's Environment Minister brings planters each of which contains 2 to 5 kg of radioactive soil with cesium density of 5,100 Bq/kg in the ministry's office and claims they help dispel public's radiation fears?

Japanese government and the ministry of Environment may violate "Laws Concerning the Prevention from Radiation Hazards due to Radioisotopes and Others"


いったい世界のどの国がキロ8千ベクレルまでのセシウムを含む放射性廃棄物を、「一般の家庭ごみと同様に処分」「公共工事と園芸用地に再利用」するのを許可しているのでしょう?
世界のどの国で、環境大臣がキロ5千100ベクレルのセシウムを含む鉢植えを環境省のオフィスに持ち込んで、風評被害を払拭する助けになるとうそぶいているのでしょう?
日本政府と環境省は、「放射線障害防止法」に違反しているのではないのですか?
内部被ばくする可能性を完全に無視して、外部線量だけで「安全に処理できる」と主張すること自体がすでに大嘘ではないのですか?




どうか忘れないでください!日本政府は福一事故で「原発安全神話」が崩壊した後、事もあろうに究極の原子力安全神話をでっち上げました。
極端に言えば、「放射能は安全」神話です



REMEMBER the Japanese government makes up the ultimate nuclear myth, following the shattered myth "Nuclear plants are safe",
that is, "RADIATION IS SAFE"

Nation of the sinking Sun...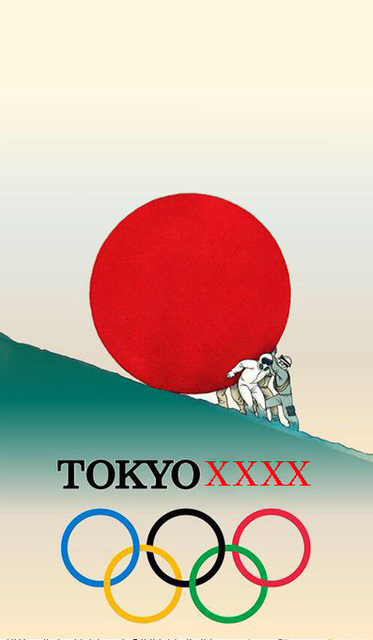 「放射能の影響と証明できない」から「安全」は原発推進派の常套手段です。けれども、放射能の影響は無防備な原発推進派を避けてはくれません。どうか予防原則を守って放射性物質の拡散を可能な限り抑える政策をお願いします!

Watch your step..."It's safe because no link to radiation is proven" Pro-nukes keeps saying,though. Radiation may grow indifferent to more defenseless pro-nukes...
Protect yourselves according to precautionary principle.
Japanese government should prevent radioactive substances of Fukushima Dai-ichi fallout from spreading nationwide with maximum effort for the nation's future generation.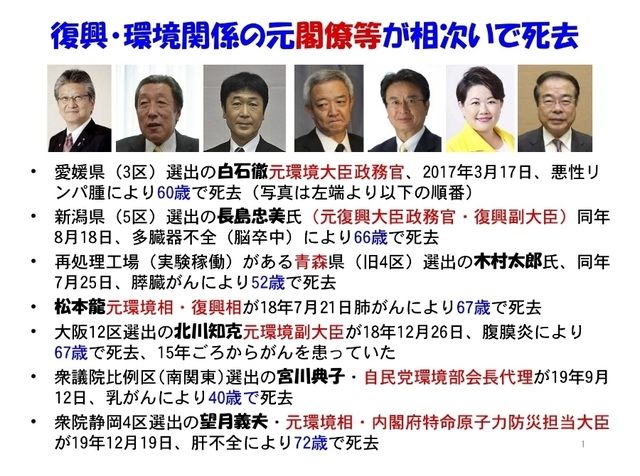 6 MOE ministers,vice minister,high officials who engaged in Fukushima and "reconstruction" died at his or her age 40 to 72 in past 3 years.
One MP from Aomori, Rokkasho nuclear fuel recycle facility is located died of cancer at his age 52.
May RIP...



NONUKES WORLD